ServiceSource
Catering Service Staff
Take the worry out of planning your event —
put our creativity & expertise to work for you!
ServiceSource offers the convenience of calling one number, and we will arrange everything — and we do it on time. Services available include:
Catering Service Staff
| | | |
| --- | --- | --- |
| Waiters & Greeters, Bartenders, black bistro attire | | $35.00/hr. |
| Kitchen Assistants, Foodservice & Buffet Station Personnel & 'Do-Alls' | | $35.00/hr. |
| Chefs, Supervisor, Headwaiter | | $45.00/hr. |
| Event Co-ordinator | | $55.00/hr. & up |
Prices do not include HST or 15% Administration Charge. Staff booked minimum 4 hrs. Overtime hours charged on events finishing after Midnight, at 1.5x listed rates. Statutory Holidays are billed at 2x listed rates. New Year's Eve and Christmas Eve billed at 1.5x rate. Travel time, vehicle allowance, meals & staff accommodations charged when applicable. Additional charges apply for specific staff requests, model waiters, costume or talent requests.
Rental Equipment
All rental needs are attended to, from casual china and BBQ equipment, to fine silver and crystal, linens, tables, chairs, tents/marquées, etc. We co-ordinate everything, whatever size or style of event Đand we specialize in THEME PARTIES!
Prices vary with selection and quantities required. Equipment, décor etc pending availability. Delivery charges may apply.
Consultation
Consultation $175.00, plus travel or other expenses, when applicable.
This fee is complimentary with confirmed booking; deposit ($50 per staff) required to confirm booking, balance due date of event. Larger bookings may require larger deposit. Consultation fee varies with complexity of event planning.
VISA or MASTERCARD number required on all orders.
Other Services
• Themed Décor & Floral Services, Balloons, Trade Show Booths, Hospitality Tents
• Bar Services and Liquor Permits (1 month minimum advance notice required)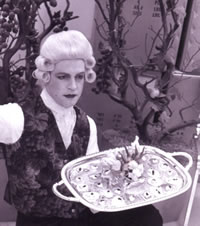 • Tents, Marquées, Dance floors, Heating and Lighting, Sound and Laser shows
• Locations and On-Site setups, Shuttle Service, Tours, Entertainment bookings
• Oyster Shuckers, Sushi Chefs and Flambée Chefs, Maple Sugar Station Chefs
• Special Occasion Cakes, Unique Hand-Painted Cakes, Exotic Carved Fruit Displays
• Valet Parking, Limousines, Butler and Coatcheck Services, Vintage automobiles
• Entertainment, Musical Ensembles, Dance Troupes, Fire Eaters, Illusionists etc.
• Costumed Staff (i.e. liveried waiters in powdered wigs, luau costumes, etc.) -and many more services…
And we travel, if your event is out of town! Whatever the size, or wherever the location, ServiceSource is always at your service! To discuss your plans for a special event, please phone 416.362.1973 and speak to one of our event specialists.