CELEBRATIONS: Menus
Celebrations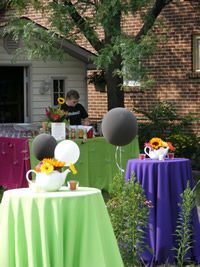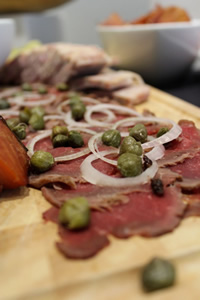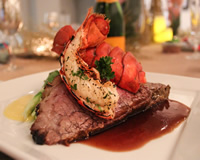 We're a full-service catering company, serving Southern Ontario and the Metro area since 1984. UrbanSource celebrates 30 years of catering in 2015, and we continue our tradition of great service -from Cocktail Parties, BBQ's and Brunches, to Buffets and Dinners!
We're known for our fabulous food, fabulous service and versatility, whether it's lunch or dinner for 8, or a celebration for 800. Our staff provide our clients with prompt, courteous delivery and setup to any part of Metro, and the area. We provide our in house staffing, who are knowledgeable about our food and service standards. Our ServiceSource staff will arrive at your home, ready to put your mind at ease so you can relax while they prepare and serve your guests amazing food, a glass of wine or custom cocktails -and friendly service!
We also offer full event planning services, and we arrange all party rentals and equipment, waitstaff, bar and kitchen personnel, locations and facilities. We are your one-stop company -décor, musicians, flowers, whatever you require for your event, we do it, and we do it on time.
Please call for a complimentary consultation and copy of our information package. We'll be happy to add your name to our list of satisfied clients!
UrbanSource Catering
and ServiceSource
Calvin Hambrook Catering & Events Manager
Wayne W. Abell Catering Sales & Business Manager
Cybèle Pohl Weddings & Events Consultant
Kelly Marshall Corporate and Residential Catering Consultant